Door Styles
AllandCabinets Cabinet Door Styles
No matter what your particular design preference, AllandCabinets has cabinet door style choices to work with every design and theme, from traditional or shaker, to rustic or contemporary. The cabinet door design, along with your prefered finishes and wood species, sets the tone and style for your entire kitchen. AllandCabinets offers a beautiful array of cabinet styles to work with every décor.
There are several types of cabinet doors including: Flat Panel, Raised Panel, Slab, Mullion, and Accent doors. Although some types of cabinet doors work best for specific design themes (for example, flat panel doors are the most popular choice for transitional or modern designs) many door styles work beautifully in a variety of designs.
CLICK HERE to browse our collection of door styles and discover which kitchen cabinet door types will work beautifully for your home!
Mitered VS. Cope & Stick solid wood door frame joint
Regarding the solid wood cabinet doors,there are two ways that the pieces of the frame are joined together:
Mitered (where the pieces are cut at a 45 degree angle) and Cope & Stick.
Shaker style cabinets doors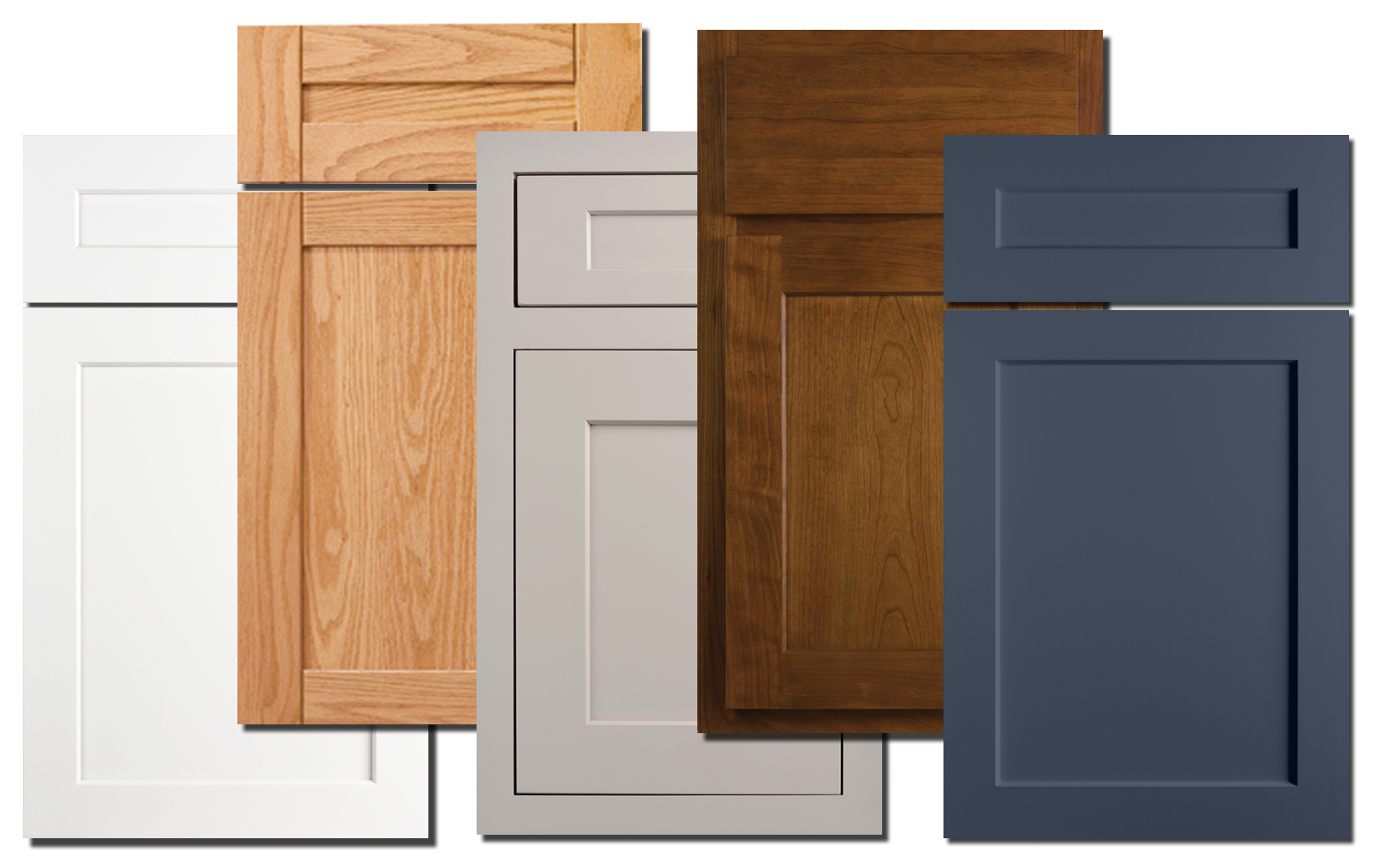 Shaker kitchen cabinets are so well-liked because of their clean lines and classic look. These more detailed shaker cabinets are transitional in style, lending themselves to complement a range of kitchen designs.
2 pac lacquer finish on MDF board is very popular and cost-efficient if we choose shaker style door panel.
If we choose to use solid wood to make the shaker doors,the most basic shaker style cabinet door is a five-piece door with a recessed center panel and no additional edge detailing.Some shaker style cabinets include beadboard or decorative edging within the stiles and rails of the door.
Slab cabinets doors
Slab cabinet door style is a solid door with no frame or panel. Slab cabinet door styles are usually used for transitional and contemporary designs.
Laminated MDF,Melamine MDF ,and 2 PAC lacquer finish MDF are all good for slab door panel.
Raised panel cabinets doors
The center panel of the cabinet door is raised with a profile or contour. Raised panel cabinet doors work well for traditional and transitional looks.
Recessed panel cabinets doors

The center panel of the cabinet door is recessed with a profile or contour. Recessed panel cabinet doors work well for traditional and transitional looks.
Mullion&
Louvered
cabinets doors
Mullion&Louvered cabinet door is not used throughout the entire kitchen, but is used as a decorative accent.
Glass on the Mullion doors are toughed glass which is safe.Also the tempered glass can be frosted or have different grains on it.You can check with Allandcabinet sales to know more information.
Message
If you have any suggestions or question for us.Please contact us.